FAQ
It seems you have a question! Hopefully below you find what you need. You didn't find what you need? Just contact us in person, we are happy to hear from you!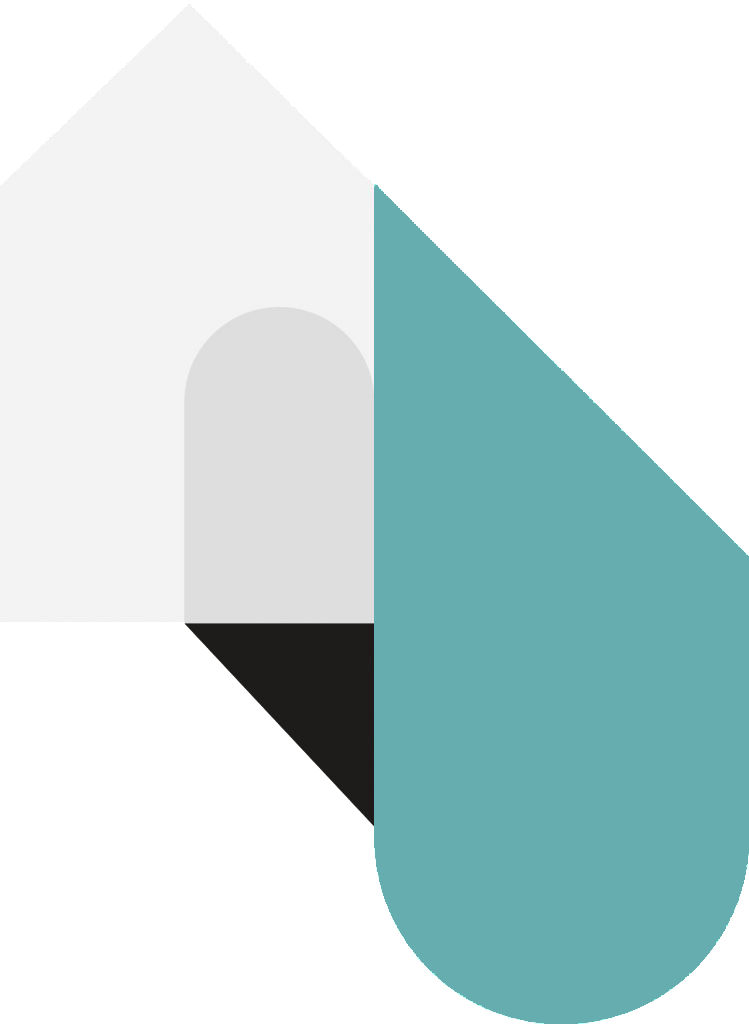 General information
What is 3D printing?
3D printing is a production technique in which a digital file is converted into a tangible object. The object is built up layer by layer by the 3D printer.
Very complex shapes can be printed with a 3D printer, the possibilities are endless. Does it sound too good to be true? 3D printing has been around for more than 25 years and is used in many areas. More and more artists and designers are using 3D printing to create special objects but 3D printing is also booming in the medical and scientific field!
How is our workflow strategy?
Project description
 At Kreate we are from the idea that realizing a project should always be in close collaboration with our clients, regardless the scale or complexity of the project. We love to sit around the table and listen to your wildest ideas or concepts!
 Don't hesitate to contact us or make an appointment to tell us more about your project.
Price quotation
After we received and discussed all the essential details of the project we offer a free price estimate within 24 hours that is as accurate as possible. Transparent pricing is our main goal in the price quotation process in order to avoid unpleasant surprises.
Product development (3D design)
 When you agreed with the price estimate, our 3D developers are excited to turn your idea or concept into reality. During the design process we actively involve our clients by organizing feedback moments and make adjustments where needed. We never start the production process without the permission of the client.
Production process
 Once the digital design is finished we prepare our machines with the right materials and start with the production process of the project. During the printing process we keep our clients updated when parts are finished.
Post-processing
 Post-processing is maybe one of the most important processes in the creation of a project. Depending on the type of applications we offer many different post-process solutions in order to create high-end, good looking 3D prints.
Delivery
 We often face tight deadlines from clients. We will organize ourselves in order to achieve the required deadline. We often deliver projects in person or ship finished parts with care and a sustainable packaging.
What services do we offer?
3D printing has the power to blow away many barriers, which makes it an interesting production tool where almost everything imaginable becomes feasible for every type of application. Of course at Kreate we are specialized in the following services:
What are the most common applications for 3D printing?
In recent years 3D printing is being integrated in many different industries and applications. We can say that today we are facing a new industrial revolution where 3D printing is gaining a lot of terrain, infiltrating or even replacing traditional production techniques. 
We listed out some of the most popular industries / applications where 3D printing is present and almost unthinkable:
– Industrial & consumer goods
– High tech
– Aeronautical & Aerospace
– Healthcare & Medical
– Automotive
– Education
– … And many more
Terms & Conditions of Kreate (DUTCH)
De opdrachtgever gaat ermee akkoord dat hij / zij het door KREATE 3D verkochte product op een redelijke en veilige manier zal gebruiken, zoals bedoeld, om het leven van personen of eigendommen van personen niet in gevaar te brengen. Het product zal niet blootgesteld worden aan vocht, chemische producten, hitte of overmatige krachten.
De opdrachtgever erkent hierbij dat elk product van KREATE 3D dat defect is vanwege nalatigheid door de vrijgegeven partij(en), volledig wordt terugbetaald maar beperkt is tot de verkoopprijs, dit gedurende een periode van twee jaar na aankoop.
De privacy van intellectueel eigendom (bijvoorbeeld uw 3D-model) is een van de belangrijkste waarden binnen KREATE 3D. Uw 3D-model zal nooit ergens worden gepubliceerd en uitsluitend KREATE 3D heeft toegang tot het bestand. Geüploade 3D-modellen worden na twee dagen automatisch verwijderd in de uploadzone. Dit om ruimte te maken voor eventuele productiefouten. U kunt deze toestemming te allen tijde intrekken. Stel KREATE 3D hiervan op de hoogte.
KREATE 3D behoudt alle rechten met betrekking tot elk ontwerp of model dat we in bestelling maken, met als doel productie door KREATE 3D. Dit is in overeenstemming met BVIE Art. 3.8, Art. 3.29 en Benelux afgegeven 1966-6, pagina 40. Dit omvat het recht op distributie en reproductierecht. Een overdracht van rechten is mogelijk in overleg met KREATE 3D, waarna een contract wordt gesloten.
KREATE 3D staat niet toe dat modellen worden afgedrukt die niet origineel van de klant zijn. Dit betekent dat zelfgemaakte 3D-modellen, gratis gedownloade of gekochte 3D-modellen met bijbehorende goedkeuring voor kopiëren en/ of dupliceren zijn toegestaan. KREATE 3D is niet verantwoordelijk voor het controleren van auteursrechten en de verantwoordelijkheid en aansprakelijkheid liggen volledig bij de klant.
KREATE 3D heeft toestemming om foto's te maken van geüploade en afgedrukte 3D-modellen en deze openbaar te publiceren op sociale media voor promotionele doeleinden. Dit gebeurt zonder de uploader te benoemen om de privacy van onze klanten te garanderen en te respecteren. U kunt deze toestemming te allen tijde intrekken. Stel KREATE 3D hiervan op de hoogte.
De opdrachtgever heeft het recht om een ​​klacht over zijn of haar privacy in te dienen bij de Autoriteit Persoonsgegevens.
De opdrachtgever heeft het recht op een kopie van de persoonlijke gegevens die wij over de opdrachtgever bewaren en andere basisrechten op gegevensbescherming.
Om producten van KREATE 3D te kopen, moet de klant akkoord gaan met de Algemene Voorwaarden voordat de betaling kan plaatsvinden.
Prijsoffertes opgesteld door KREATE 3D worden zo nauwkeurig en transparant mogelijk opgesteld en gecommuniceerd met de opdrachtgever. De opdrachtgever is er zich van bewust dat de eindfactuur wijzigingen kan ondervinden t.o.v. de eerste goedgekeurde prijsofferte. Daarom is het van essentieel belang dat de opdrachtgever een zo gedetailleerde mogelijke omschrijving voorziet aan KREATE 3D zodat alle mogelijke kosten in rekening kunnen worden gebracht.
De opdrachtgever wordt ten alle tijde op de hoogte gebracht door KREATE 3D wanneer de prijs van de oorspronkelijke prijsofferte wordt overschreden.
Bij een prijsofferte opgemaakt hoger dan 500,00 EUR dient een samenwerkingsovereenkomst door beide partijen te worden ondertekend. Bij een prijsofferte lager dan 500,00 EUR wordt een voorschot van 30% gehanteerd op de voorgestelde en goedgekeurde prijsofferte.
Uploading of a 3D model
What is the maximum upload size of my 3D file?
The maximum upload size is 64 megabytes.
What are the maximum dimensions for printing my 3D model?
The printers that Kreate uses have a maximum printed circuit board size of 30 cm by 30 cm. The maximum height for printing is 30.5 cm.
Don't worry if your 3D model exceeds these dimensions, in the past we printed many object that are larger. Our 3D designers easily slice your file into pieces and 'merge' them together when printed without seeing any weird-looking edge!
Is my homemade 3D model safe with Kreate?
The privacy of intellectual property (e.g. the upload of your 3D model) is one of the most important values within Kreate. Your 3D model will never be published anywhere and no one but Kreate will get access to the file. Kreate only gets access to your 3D model when the payment is made. Have you uploaded a 3D model but not paid? Then we have no access to your file. Uploaded 3D models are automatically deleted in the upload zone after half a day.
Where can I determine the filling (infill) of my 3D model?
At Kreate, the filling (infill) of the 3D model is automatically calculated to optimally meet your model. The calculated infill is also checked by us before printing. You do not have to worry about this any further!
I would like to print my 3D model on a different filling (infill)?
On the upload page you will have the opportunity to pass on additional information to us. Here you state which infill you would like to have and then we print the uploaded 3D model in this filling (infill).
My 3D model contains overhangs / cantilevers, what now?
Our 3D printers can easily print overhangs. A support is automatically generated that ensures that the cantilever can be printed. To make this clearer, we take an example. Suppose you want to print a monkey, but the monkey sticks out its arm. Without the automatic generation of a support (blue on the image) in our software it would not be possible to print the monkey's arm. When the print is ready, this support (blue) can easily be removed. This support is removed with the necessary tools, albeit by Kreate, without damaging the object and is automatically included in the price.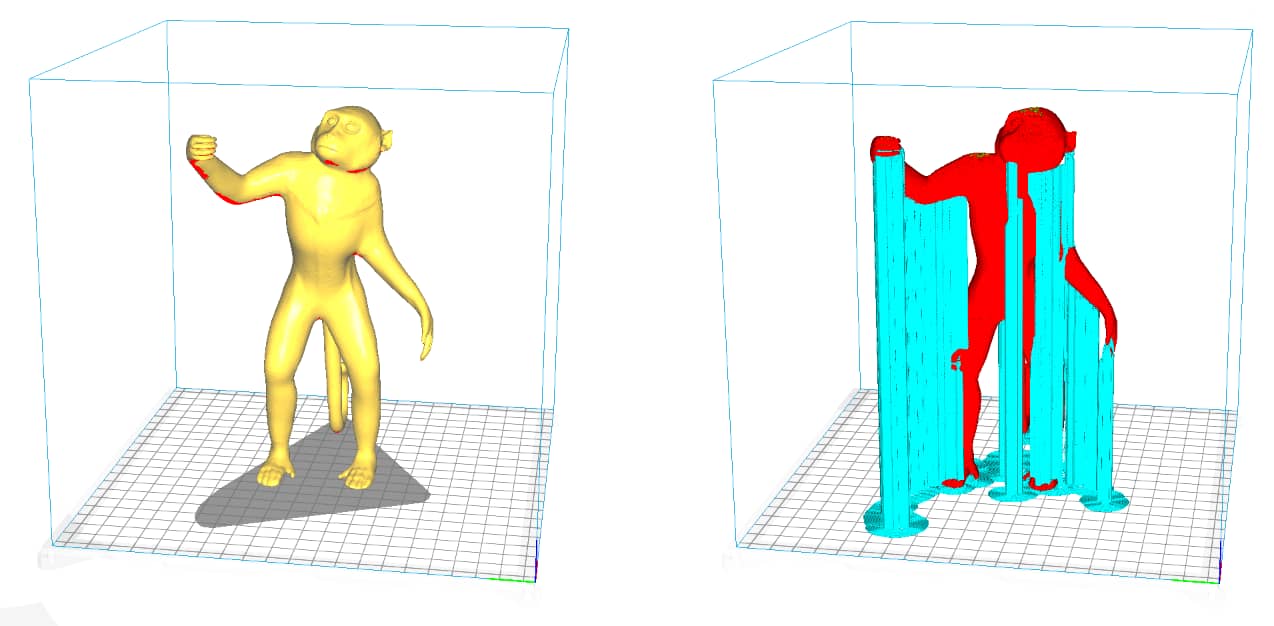 How detailed can I have my 3D model printed?
Well, very detailed! At Kreate we have of course already tested our machines for precision and detailing, and this is the result! A cathedral on a 1/200 scale. To give you a sense of size, we have added a 20 cent coin to the 3D print. However, we recommend that you let us determine the detail of your print because there are many variables involved and a lot can go wrong!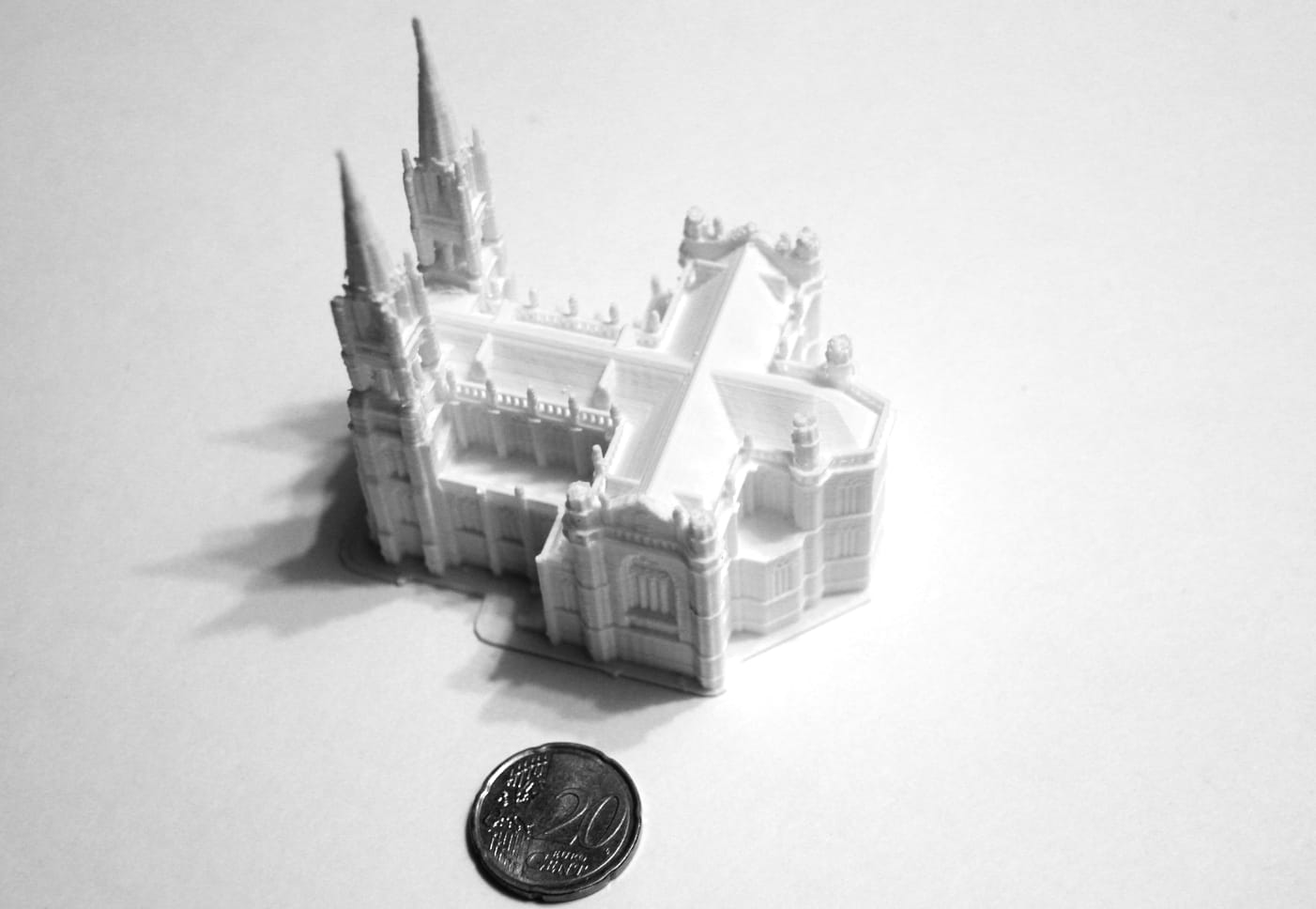 What types of files can I upload in the upload zone?
To get the best results from a 3D print, we expect 3 types of files: .stl (binary, not ASCII) , .step, .dwg, .zip, .3ds. In our upload zone you can upload your 3D model, if your file is none of these files, the upload will fail!
Materials & Use
In which materials can I have my 3D model printed?
Kreate currently has PLA (Polylactic Acid) and HIPS (High Impact Polystyrene). We can print with other materials on request such as ABS / PC / TPU / TPE / NYLON / PETG / ASA / PP / PVA / Glass Fiber Infused / Carbon Fiber. Click here to get more information about our 3D print materials and different 3D print technologies.
PLA: WHAT?
PLA is one of the most durable materials on the market. The material is made from corn starch and is therefore completely biodegradable. Did you know that when PLA is in contact with water for a long time, it automatically starts to dissolve?
HIPS is a strong plastic that is easy to manufacture. One of the benefits of HIPS is that it is very recyclable, able to withstand strong forces and heat-resistant.
USE?
PLA is certainly not one of the strongest materials for printing. It is therefore never used to print mechanical parts which have to absorb many forces. PLA is used to print concept ideas. Consider, for example, concept models or prototypes, …
HIPS is, as the name suggests, a stronger plastic. HIPS is waterproof, resistant to higher temperatures and higher forces than PLA. This means that minimal mechanical applications are not excluded!
WHAT DOES IT COST?
PLA and HIPS are almost identical in terms of price. So you have to choose which material best suits your purpose!
What post-processing techniques do we offer?
Post-processing plays a crucial role in the finishing touch of a 3D print. Almost 90% of the objects that we print are treated with post-processing techniques.
The first step in the post-processing process is the sanding of the 3D printed parts, this to remove the layers of a print. When the sanding is finished we apply a coating in the desired color to give a finished look.
Another technique we use at Kreate 3D is vapor smoothing. This is only possible when objects are printed with HIPS or ABS. A glossy finish and stronger parts can be achieved with vapor smoothing.
I want to give my 3D model a color, is this possible?
It is perfectly possible to provide a 3D model with a layer of paint in the desired color. We can do this for you or you can do this yourself. The material that Kreate prints with (PLA / HIPS) is oil-resistant. Please note, we do not recommend painting your model with water-based paint. We are therefore not responsible for the consequences!
Tips & tricks when painting your 3D model:
First sand your 3D model until you get a smooth surface, so the paint will adhere better and the end result will be better.
Preferably use a spray can instead of a brush. That way you can easily paint hard-to-reach places with a layer of paint.
Keep a sufficient distance (20-30 cm) when spraying a 3D model. This is how you prevent drips.
Painting a 3D model requires on average 2 to 3 coats of paint. So take your time to apply different layers.
Sustainability
How ecological is the packaging at Kreate?
Every process at Kreate has been thought out to harm the environment as little as possible, directly or indirectly. Even at the very last step of the process, we have thought about how to handle shipping materials ecologically. 3D prints must reach the customer safely. That is why a filling material in our shipping boxes is essential. This stuffing material consists of shredded recycled cardboard, this type of cardboard is also called SizzlePak. Polystyrene beads or other harmful materials for the environment will never be used at Kreate.
How does Kreate try to be energy efficient?
The electricity needed to power the 3D printers is generated thanks to solar panels on our roof! 
Are 3D prints at Kreate made from plastic?
At Kreate, the environment is central and we want to reduce the amount of waste. To realise this, Kreate mainly works with biodegradable materials for 3D printing, such as PLA or highly recyclable HIPS.
Does Kreate use harmful materials for 3D printing?
At Kreate we work with PLA for 3D printing, a material made from corn starch and HIPS, a highly recyclable material. Corn starch is a 100% natural material and is therefore not harmful to the environment. In addition, PLA is biodegradable when it comes into contact with water for a long time. We can therefore call PLA a bioplastic!
Order & Payment
How are payments done?
At Kreate we only work with estimates and invoices. Our invoices are sent together with the order, we impose a payment term of seven days.
Payments are preferably done by a bank transfer.
Delivery
Does Kreate also ship outside of Belgium?
Yes, we do! Just send us a message!
How much is the shipping cost?
We collaborate with Bpost to send our parcels to the customer as quickly as possible. The standard price for this shipment is € 6.70 for items with a weight of 0 to 5 kg. 
What is the delivery time of an order?
The delivery time of a 3D print service is of course different than at a normal webshop. As soon as we receive your order, we calculate how long it will take to print your 3D model and it takes 3 to 4 days of print processing. If everything went well, the 3D print will be packed and immediately sent with Bpost, 1 to 2 day shipping.
 Conclusion: the fastest that your package can be delivered is 3 days and otherwise up to 7 days. If these days are not met, the customer will be notified.